Kyoto and Japan
1. Flights to Japan
Both from America and Europe, you arrive Japan on the next day. And you return home on the same day.
Two major international airports in Japan is Tokyo/Narita (NRT) (serving Tokyo) and Osaka/Kansai (KIX) (serving Kyoto, Kobe and Osaka). The nearer to the HL7 venue is Kansai.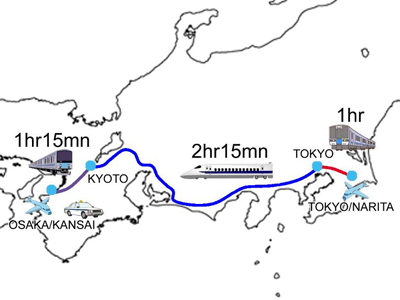 Tokyo/Narita has many non-stops from all over the world, while Osaka/Kansai has non-stop flights from;
San Francisco, Los Angeles, Detroit and Honolulu (North America)
London, Paris, Frankfurt, Rome, Amsterdam, Helsinki (Europe)
Sydney, Auckland, Christchurch (Oceania)
All major Asian cities
Your agent may recommend you a flight to Tokyo/Narita and connection to Osaka/Itami (ITM), which is a domestic airport in Osaka, and is even nearer to Kyoto.
Most airlines offer "Open Jaw" return ticket, which, for example, come in Osaka/Kansai, and leave from Tokyo/Narita, or vice versa. If you have a business in Tokyo before or after, or you like to see Mt. Fuji, this would be a good option.
2. Transportation to the Kyoto venue or Kyoto hotels
1)From Tokyo/Narita by train
Shinkansen (Bullet) train is recommended from Tokyo to Kyoto. From Tokyo/Narita airport to Tokyo station, JR Narita Express serves every 30 minutes and takes about an hour. Fare is about 3000 yen, which can be covered by JR nationwide pass
(http://www.japanrailpass.net/eng/en001.html This must be bought outside Japan beforehand.).
2000 yen for first class supplements. JR local train (not express but no train change) costs only 1280 yen and takes 1h30m.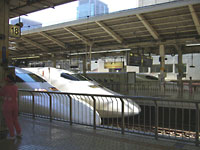 Then take Tokaido Shinkansen from Tokyo to Kyoto. (Do not take other Shinkansens for Tohoku,Joetsu, etc. they are going north.) There are three types of express. Nozomi (2h20m to Kyoto), Hikari (2h45m), Kodama (3h30m). Though their destinations can be Hakata, Okayama, Shin-Osaka, all stops at Kyoto. Do not take Kodama for nagoya, which is before Kyoto. Cost is about 13000 yen. Hikari and Kodama can be covered by JR nationwide rail pass. First class supplement is about 6000 yen.
Mt. Fuji is on your right (ask for row E seat for normal class, row D seat for first class), visible at 45-55 minutes after departure from Tokyo.
From Kyoto station to venue and hotels.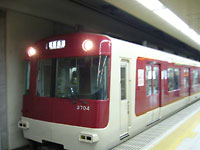 You arrive at JR Kyoto station. New Miyako hotel is south side facing station. Granvia hotel is at station building. The venue and other hotels are accessible by subway. The venue, Kokusai Kaikan is at the terminal of northbound Karasuma-line subway. Takaragaike Grand Prince hotel is the venue hotel, which is next to the venue. Other downtown hotels are on the way. If you take taxi, 2500 yen to the venue, and 1000-1500 yen to downtown hotels.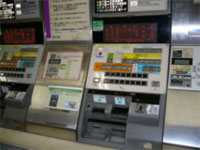 Venue, Kokusai Kaikan, means International House, where Kyoto protocol for environments are signed.
http://www.icckyoto.or.jp/en/index.html
2)From Tokyo/Narita by air to Osaka/Itami domestic airport (4 direct flights a day)
There is a bus service to Kyoto JR station, every 20 minutes and takes 60 minutes, 1300 yen.
http://www.okkbus.co.jp/eng/index.html
Then you take the same way described above to hotels and the venue from the station.
Or, one taxi company offers airport-to-door share-ride cab (MK Skygateshuttle) to your destination. 2300 yen one way.
http://www.mk-group.co.jp/english/shuttle/index.html
3)From Osaka/Kansai to Kyoto venue and hotels
There is a bus service to Kyoto JR station, every 40 minutes, takes 90 minutes, 2300 yen. (same bus company above. http://www.okkbus.co.jp/eng/index.html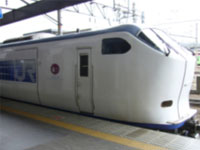 Or JR trail express Haruka, takes 80 minutes, every 30 minutes, 3700 yen, which can be covered by JR nationwide pass (above) or JR West pass
http://www.westjr.co.jp/english/travel/jrp/index.html
*From Kyoto station to venue and hotels, same as above.
*Airport-to-door share cab also available for 3500 yen.
http://www.mk-group.co.jp/english/shuttle/index.html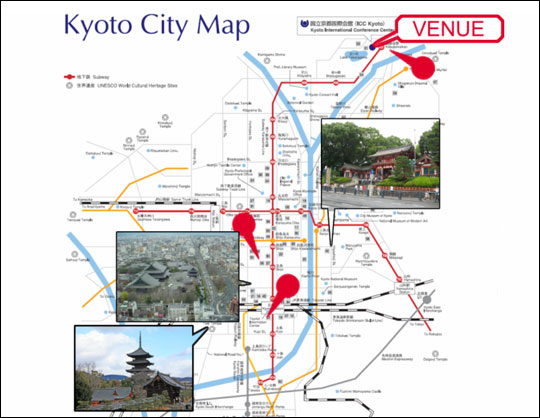 3. Hotels in Kyoto
Unlike usual HL7 meetings, there is no penalty for smaller stay-nights of participants by the venue hotel. You have freedom to choose your favorite hotel.
Hotels we blocked for HL7 meetings attendants will be reserved through JTB homepage, which will be linked from meeting registration sites. Followings are the list of hotels with their homepages.
Venue hotel
SGL 20000/DBL 25000
This hotel has a Kyoto station check-in counter, where you can chek-in your luggages to be delivered to the hotel while you go by subway.
JR Kyoto station hotels (One line subway 20 minutes ride to the venue)
SGL 15500/DBL 21000
SGL 30000/DBL 30000
Kyoto downtown hotels (One line subway 10 minutes ride to the venue)
SGL 9000/DBL 15000
SGL 8500/DBL 15000
*as of Jan 3, 1 USD = 90 yen, 1 EUR = 125 yen. Tax, service are all included in above rates.
*As all has English version of their homepage, English is spoken at the front desk.
4. Total Budgets
Even after the sudden heavy appreciation of Yen to Dollar, Euro, hotels in Japan are rather inexpensive. We offer less than 100 USD for downtown single room. Please look at the homepages of them, they are clean, modern, free high-speed internet, though the rooms are a little bit small.
You may find budget airfare, like 1200-2000 USD return from US, 700-1500 EUR return from European cities. Stay cost can be as low as 1000 USD for 10 nights stay.
5. Visa, Climate, Tips, Power, Cell Phone
USA and most European citizens are exempted for non-labor entry. Please check JNTO homepage for your requirements.
http://www.jnto.go.jp/eng/arrange/essential/index.html
If you need an invitation letter, please contact the secretary.
The climate is mild in Kyoto at the period. 15-25 Celcius (55-75 F), rain is not likely.
Tips are included in the bill of hotels and restaurants. Virtually, you will have no occasion to tip in Japan. Polite hotel porters and taxi drivers may refuse your offer.
Power is 100 volt, 60Hz, two plone plug (American plug minus ground). Shape converter is available at hotel desk.
Cell phone protocol is mainly IMT2000, which is only for Japan
・ No GSM
・ 3G, some CDMA
・ Cell phone rentals are available at international airports
If your SIM card has roaming contract, cell phone without SIM card is also available, and you can use your number.
6. Exchange and cash advance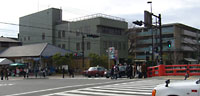 Foreign currencies and traveler's cheques can be exchanged at airport facilities, bank branches, and hotel cashiers. Exchange rates are all the same. Restaurants and taxis do not accept them.
For cash advance by ATM, bank ATM's are not for foreign issued cards. Japan Postal Bank ATM and Seven-Eleven's Seven Bank ATM in the convenience stores accept VISA, PLUS, Master, CIRRUS, MAESTRO, AMEX, Diners club and UnionPAY. Ask hotel cashier for nearest locations. (Sorry, nearest ATM from the venue is 10 minutes walk.)
7. Breakfast, Lunch, Dinner
Unlike usual HL7 meetings, breakfast is not served at the venue, because many of you have to ride from your hotels. Please have your breakfast in your hotels. Most hotels serve breakfast buffet. Try some Japanese foods.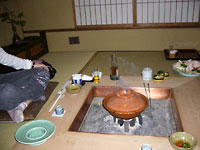 Some traditional Japanese restaurants require you to take off your shoes. Ladies, please be careful to choose pants in these occasions.
HL7 Japan is planning some small group dinner tour (on your own) at non-reception night. Details will be announced later.
8. Tours, excursions
HL7 JAPAN PRESENTS HALF DAY KYOTO CITY TOUR (AM or PM) FOR ALL PARTICIPANTS!
There will be a travel desk at the venue for you to book the free tour on your convenient time. You can buy additional tour for your family, upgrade it to longer or larger tours, and make your travel arrangements.
AM tour features: Nijo Castle, Golden pavillion, Imperial Palace.
PM tour features: Heian Shrine, Sanjusan-gen-do, Kiyomizu Temple.
Other English spoken tours are available.
http://www.jtb-sunrisetours.jp/JTB.SunriseTours/frontend/category.aspx?SubCategoryNo=4
Getting around Kyoto
Municipal subway is the most convenient, because the venue, Kyoto station and downtown hotels are connected by Karasuma-line subway. One way fare is around 200-250 yen. Find you destination, fare, and put coins (or notes). Then push the lighted fare for you. 1 day or 2 day flat rate card, with or without bus system, are also available at the different vending machine.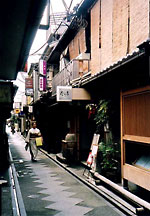 Extensive bus route with subway stations are informed in this HP.
http://www.city.kyoto.jp/koho/eng/access/transport.html
HL7 Japan is planning site visits to Kyoto hospitals. Details will be announced later.
Major excursions outside Kyoto:
Nara:

Even more ancient capital of Japan. Large Budda temple. 45 minutes train ride.

Osaka:

Breathtaking Osaka castle. Second largest city, famous for foods. 30 minutes train ride.

Himeji:

White crane castle, which is said to be the most beautiful in Japan. 1hour train ride.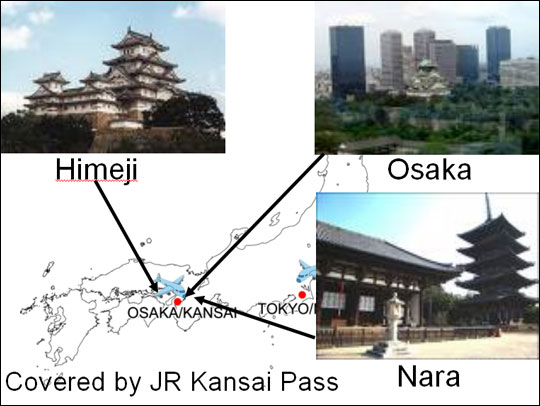 There three cities are covered by JR West Kansai Pass, Sanyo Pass, and JR Nationwide Pass.
Hiroshima:

Peace memorial city. 2hour 30minutes train ride. which is covered by JR West Sanyo Pass, JR Nationwide Pass.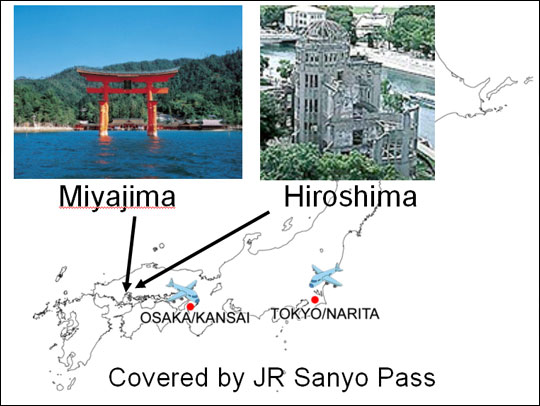 Tokyo:

Capital of Japan. Mixture of Yedo culture, modern culture and pop culture. 2hour 40 minutes train ride, which is covered by JR Nationwide Pass.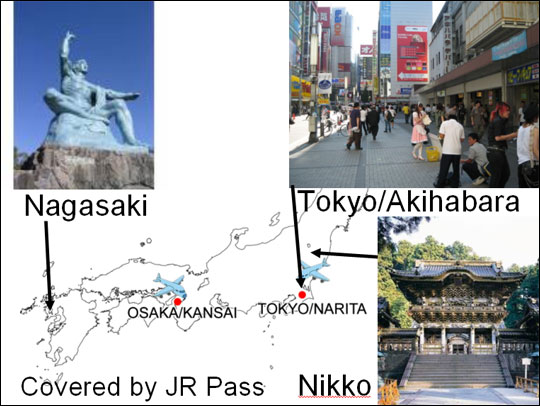 Rail Passes
Must be purchased beforehand, outside Japan
Fastest Shinkansen Nozomi, excluded
Japan Rail Pass (nationwide)
・ 7 days 28300yen (1st class 37800yen), 14d, 21d,
・ http://www.japanrailpass.net/
JR Kansai & Sanyo Pass
・ Kansai: 1 day 2000yen, 2d, 3d, 4d,
・ Sanyo: 4days 20000yen, 8d,
9. Aoi Festival
You are lucky that HL7 meeting is held on the day of one of the famous three festival in Kyoto. Aoi Festival.
What is the Aoi festival:
On May 15th, the annual Aoi Matsuri, a traditional festival popular throughout all of Japan, is held in Kyoto. The name, "Aoi,"is derived from the leaves of the Aoi plant (Geraniums).Geraniums decorate the clothing and oxcarts of all of the festival participants. This symbol can be observed throughout the kilometer-long parade.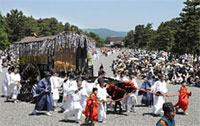 The procession is led by the famous horse-riders of Kamigamo Shrine and the forerunners called Suo' wearing warrior costumes from the Edo period. Others are dressed up as court officers, messengers, and holy maidens.Horses, traditionally used to console the gods, traditional oxcarts, and large flower umbrellas also dot the parade
This procession gets underway at 10:30AM from the Imperial Palace(Kyoto Gosho) and makes its way across Aoi Bridge to Shimogamo Shrine, one of the two Kamo Shrines. After a ceremony is held there, the procession moves to Kamigamo Shrine further north, where a similar ceremony is conducted. The parade then returns to the grounds of the Imperial Palace.
The Aoi Matsuri is one of the three biggest festivals in Kyoto along with the Gion and Jidai Festivals held on July 17th and October 22nd respectively. It is also the oldest festival, originating sometime in the 6th century. It is an opportunity not to be missed because it provides a glimpse of Japan's ancient and medieval history as well as its traditional imperial household and court nobles.
HL7 is planning to reserve a spectator seats at departing Imperial Palace, which is bookable at HL7 meeting registration page.
Welcome to Kyoto
Welcome to Kyoto where is called as "Japan's heartland". Please do not miss the opportunity what Japan is. It is said that it is impossible to know the real Japan without knowing Kyoto.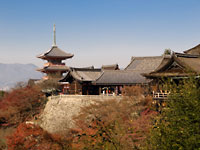 Natural scenery, temples, shrines, towns and homes intermingle with a poignant historical beauty. Whether it is the Gion Festival, the Tea Ceremony or Japanese flower arrangement or Nishijin-brocade, so many aspects of characteristic Japanese culture continue to thrive in Kyoto.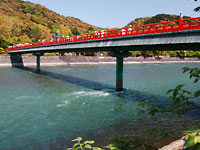 Over a period of 1200 years, dating from the decision to move the capital to Kyoto in 794, it nurtured a splendid, delicate and unique kind of culture, and over the course of history came to be considered the mother of culture within Japan.
Arriving In Kyoto
You can reach Kyoto;
73 minutes from Kansai Airport by JR "Haruka" Kansai Airport Limited Express.
2 hours and 22 minutes from Tokyo Station by the JR "Nozomi" Shinkansen (Bullet Train)
Arriving In Conference Venue
The conference venue and preferred accommodation provider;
You can reach Kyoto International Conference Center with 20 min ride of Karasuma subway line.
Please see the website below.
Link
Kyoto City - Official Site

Kyoto Guide

Fodor's Online- Kyoto Travel Guide

Kyoto event web magazine

Japan guide

Kitano Tenman-Gu

Kiyomizu-dera

Kinkaku-ji

Ginkaku-ji